Social Media: Organic vs. Paid
It's true, social media networks are putting pressure on spas to spend money on paid social media in order to reach their audiences and go beyond their current followers. It's important to understand that both organic and paid social media are needed to be truly successful.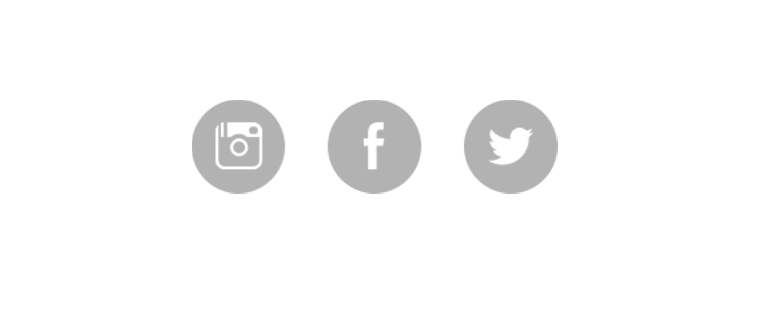 ---
What Is Organic Social Media?
Organic social media is the use of the free services and tools that social media platforms provide to its users. Including posting status updates, links, and images with captions for your audience. The purpose of organic social media is to build a community of loyal followers and customers through posting relevant content, and interacting with those who interact with your brand.
If you want to show customers your brands true values and culture, while also learning about your customers values and interests, organic social media marketing is an effective way to do so.
What Is Paid Social Media?
Paid social, meanwhile, is identified as paying for social media platforms to display advertisements or sponsored messages to users of the social network based on platform users interests and demographics, these advertisements or sponsored messages will cost and differ depending on the type of ad.
Paid ads and boosted posts will take you beyond the reach of a traditional organic post and attract leads outside your existing customer base.
---
The Decline of Organic Social Media Reach
These days, many businesses and brands find their organic growth from social media is stagnant. Mark Zuckerberg announced a change in Facebook's News Feed in 2019. "The first changes you'll see will be in News Feed, where you can expect to see more from your friends, family, and groups."  According to Facebook's research, users want to see more content from their family and friends in their News Feeds, not content from brands.
Keep in mind that there is some hope for organic reach, social posts that generate conversation between people will show higher in social media news feeds. For example, live videos often lead to discussion among viewers on Facebook –in fact, live videos on average get six times as many interactions as regular videos. Local businesses connect with their communities by posting relevant updates and creating events around what's going on in their community.
Nowadays, All social media platforms are encouraging brands to look at their fan bases as a way to make paid advertising more effective rather than using it as a free broadcast platform. You should assume organic social media reach may eventually arrive at zero percent. So, if you really want to reach your target audience, you'll need to supplement your organic efforts with some paid advertising.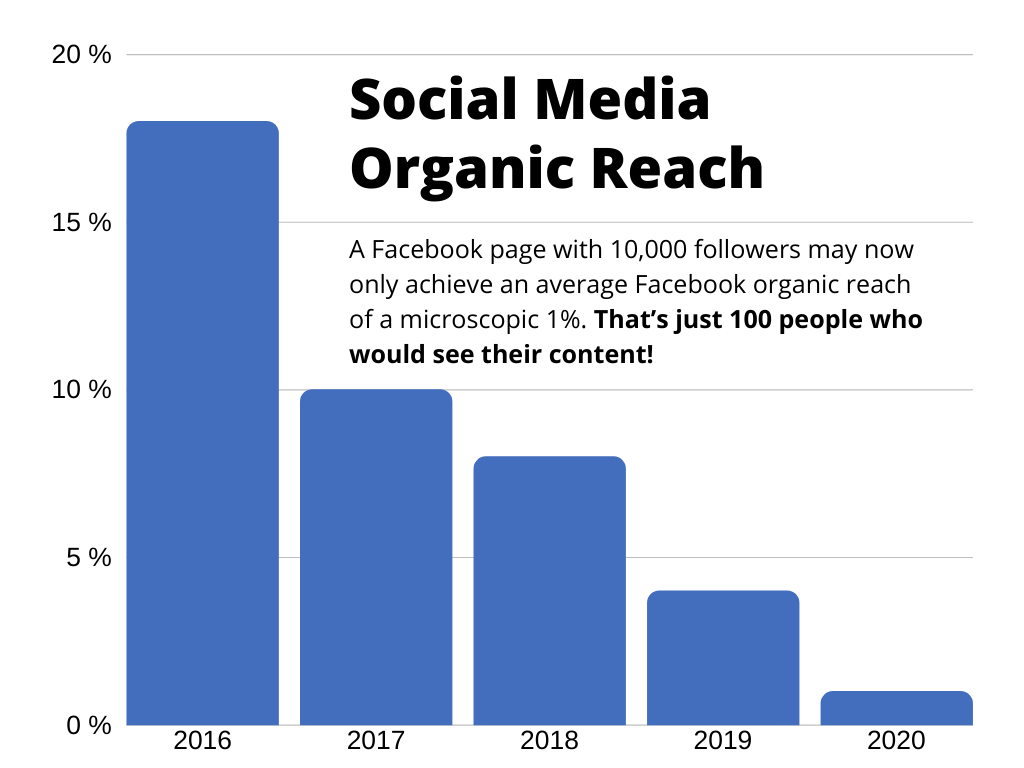 Expect a struggle with the organic reach of your business' on all social media platforms, If you're not paying for the advertising. It's possible, you won't be seen at all. Since 2016, organic reach has declined to about 2% of your followers that will see your organic post in their news feeds.
The good news is; the more you engage with your customers on social media platforms the more the platform is likely to show your organic posts in your followers feed.  
---
Can an Organic Social Media Campaign Be Successful?
Yes! People use social media to be entertained. They use it to learn something new. They use it to stay engaged with their social network. They want to feel like they're part of a group, and this is where your organic social media strategy comes in. Organic campaigns work to reach your current followers and are most successful if you use them for events, helpful tips about products, demos and announcements.
Personality is what connects people to your brand. Instead of telling your followers how great you are, show them. You do not need a budget for this type of content and it can be incredibly helpful to your followers, and hopefully they will share it on their social media!
So, to attract potential clients and keep your current followers, you need to give them a reason to keep following you. Does your page offer any value or benefit to them? You can do this by creating useful content and here are some ideas:
Inspirational Quotes
Everyone likes to see and hear motivational words before starting their day. Posting inspirational quotes will help increase your salon page engagement.
Inspirational Quote Examples:
"You are one massage away from a good mood."
"Happiness is Massage Day!"
"To fall in love with yourself is the first secret to happiness."
"My life is perfect. Just like my brows"
"Love is in the Hair"
"Monday: Nothing a massage can't fix"
You can find many options for fantastic spa quotes by using the google search tool.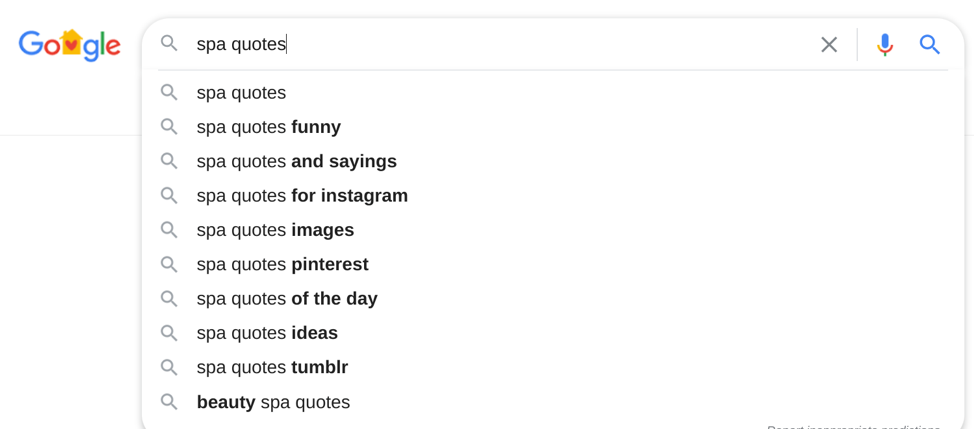 ---
Ingredient Information
Do you offer all-natural or vegan products? Do your followers know? Your prospective clients will be looking for products with safe and healthy ingredients. Sharing useful information about the ingredients used in each of the products you use and highlighting their benefits will help generate interest in your business.
---
Promotions/Contests/Rewards
Everyone loves to get rewards. Promotions in the form of contests and rewards will not only entice new customers to buy your products and services but it will also reinforce repeat behavior and you may even get a social mention from them, especially if you encourage it! Here are a few great examples:
Source: @ojaivalleyinn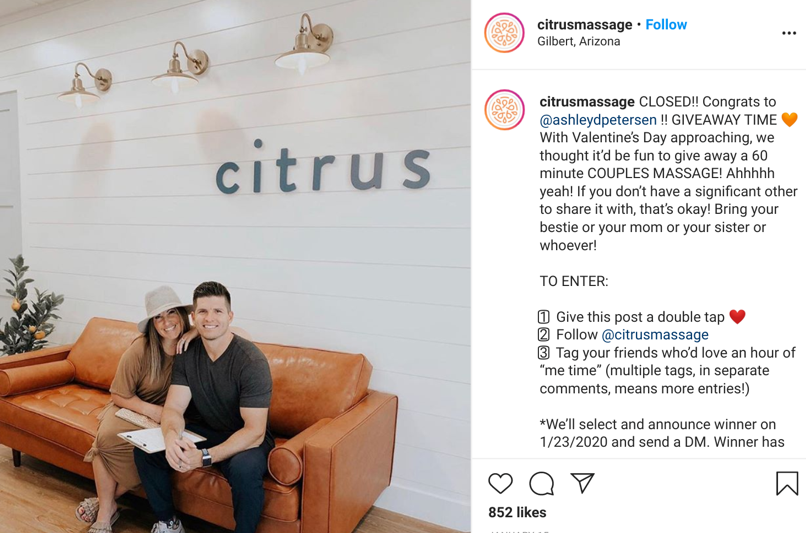 Source: @citrusmassage
Types of Social Media Contest:
Like to win: Have followers like your post for a chance to win a free product or service. 
Tag a friend to win: Have followers tag one of their friends in the comments section for a chance to win. This allows your brand to reach new potential leads on Instagram and grow your audience.
Follow to win: Ask followers to follow your brand, or a partner (or both) for the chance to win a product or service. 
Photo contest: Ask participants to upload a photo of themselves using your product or service. You should ask participants to include your brand's hashtag, or tag your brand.
Example: Take a picture or tag yourself at our spa, for a chance to win a free massage! 
---
Transformation Pictures or Videos
Your social media page is an extension of your portfolio. Share before-and-after pictures and videos to show potential clients what you and your team can do for their hair, skin, nails and overall wellness.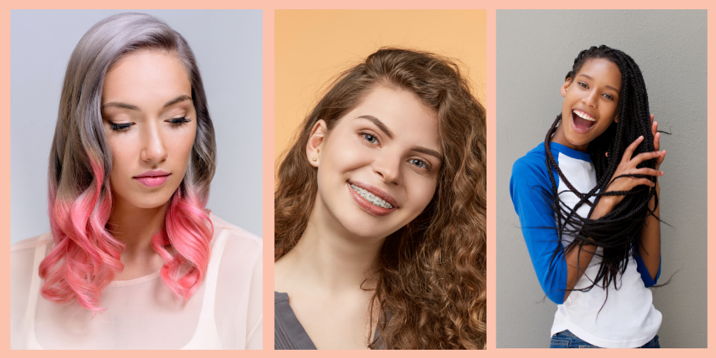 Take pictures with clean, uncluttered background. They often receive the most love on social media because they're easy on the eyes. 
---
Free Tools For Organic Social Media Posts
Photo Editors
Free online picture editor and graphic designer, allowing you to use online photo editing tools, such as add filters, frames, text, stickers and more. 
Live video
Currently, 80% of social media platform users would rather watch live video from a brand than read their content marketing posts. On top of that, people will spend 3x longer viewing video that is live compared to video that is pre-recorded. Each platform has a great help page to use as a resource: 
Hashtags
Boost your visibility! When you add a hashtag to a social media post, it becomes a clickable link that directs users to a list of other discussions and content that share the same hashtag. By using hashtags your brand is joining an internet conversation about a trending topic, this helps your brands potential to get discovered by use of hashtags by increasing their visibility. 
Top Free Hashtag Generator Tools:
Don't underestimate the power of using hashtags to join in on conversations, such as:
Events and conferences (The Spa and Wellness Show #iecscchicago Green Spa Network Congress #GSNCongress )
Holidays or celebrations ( #NationalMassageDay #GlobalWellnessDay #HappyMothersDay)
Popular hashtags for days of the week (#TBT #SmallBusinessSaturday #ManicMonday #WeekendVibes #FlashbackFriday)
---
When it comes to organic social posts don't forget to: 
● Show personality!
● Interact and engage with your followers. Make sure to respond and "like" their comments. 
● Avoid selling to your followers. Leave that for the paid social advertising.
● Use your own brand hashtag on each post. (#yourbusinessname #yourproductname)
---
Why Organic Social Media Still Matters
Despite the push to buy ads and constant algorithm changes, organic social media isn't going anywhere. In fact, brands can still promote their spa organically and show off their brand message and values. 
Organic content is great because it's cost-effective. It's a way for you to spread your message and let your audience know what your brand is about without having to pay for it. It also gives you a chance to test what kind of content your audience responds and engages with.
The key with organic social media is to not hit your followers with sales pitches post after post. Organic posts serve as shareable, fun and inspirational content without pushing a strong sales pitch, compared to the stronger call to action in the paid post.
Complete and Continue