Service Menu Integration
A service menu promotes a business' offerings with a collection of services. The evaluation of adding a new service should be objective and align with the existing offerings. The addition of a service is an investment of time and money which includes training, marketing, and professional and retail product purchases. 

---
New Service Considerations
Service should be compatible with existing service menu.

Service addition assists in growing the overall business.

Develop a descriptive name for the new service so clients understand the new offering. 

Service can be offered as stand-alone service and/or an enhancement service.
---
Service Conversion
Many times, a client will schedule a service that will not meet their needs because they do not understand the benefits of every service, which may lead to dissatisfaction. The ability to actively listen to the client's needs and being able to align the best service and retail that is available. The opportunity to do a service conversion is important to ensure client satisfaction. 
---
Enhancement Menu
The ability to customize a client's spa experience and exceed expectations is during the client consultation. The ability to actively listen to the client's needs and align with the service and retail that is available. 
During in-room client consultation provide the client with a pre-printed enhancement menu that summaries the possible enhancements. The power of the printed menu allows a client to scan the options along with pricing to decide of adding. In addition, based on the client's concerns you can guide them to the service(s) that matches the best. 
If pre-printed menu is not an option; be able to verbally suggestion additional services to meet the needs of the client.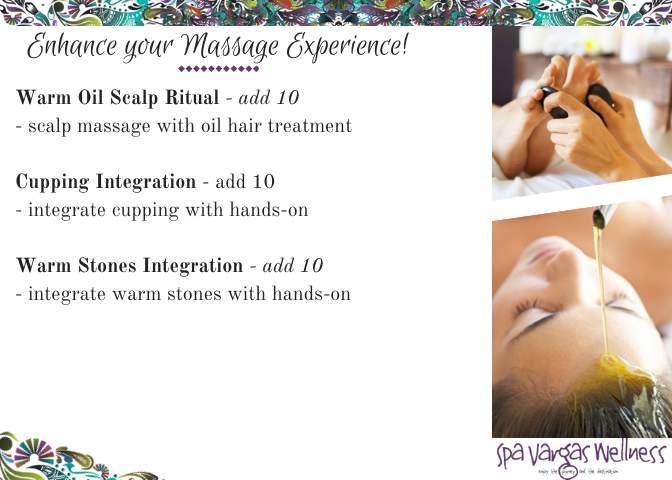 ---
Rebooking
The importance of growing a business and an individual's repeat business is with rebooking the client at the end of the service. For every client, provide a treatment plan and a recommended next visit based upon the client's stated objectives. 
If possible, meet the client at check-out to do home care recommendations and booking for the next appointment.
If not possible, let the checkout agent be aware of your recommendations so they can follow-up on your behalf.